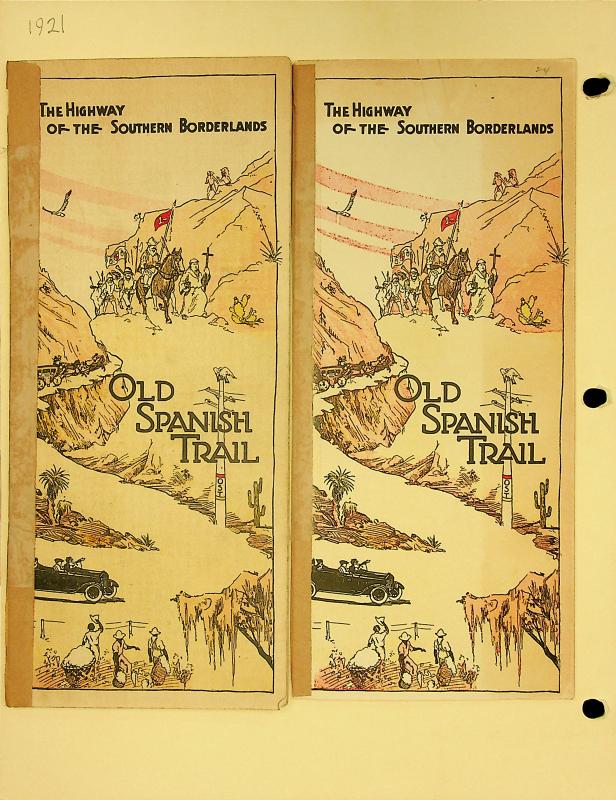 In 1915 a committee decided to start working on a national highway that would connect Florida to California. After years, these members completed the project in 1919, connecting San Diego to St. Augustine. They put hard work into raising the funds and figuring out the logistics of it all. What is even more impressive is that they went above and beyond simply building a highway, they decided to explore the rich history of the area they worked on. They worked hard to connect the highway to the history of the Spanish empire, going so far as to call it the Old Spanish Trail.
Their commitment to discovering this history is amazing. Many times, the group faced adversity in their search for information, not only because information can be hard to find, but at times people dismissed their search as pointless. Harral Ayres, who spearheaded the Old Spanish Trail project, encountered people in San Antonio who were dismissive of looking into Spanish history. Most people in San Antonio saw history in the area beginning with the Alamo and Santa Anna. Harral Ayres paid special attention to San Antonio and Texas because while working on the Old Spanish Trail he lived in San Antonio.
The Conquistadors became a large fixation for the Old Spanish Trail team. They included the conquistadors on the cover of the Old Spanish Trail pamphlet, and they went into detail about the expeditions of multiple conquistadors in that same pamphlet. The Old Spanish Trail team also paid a large amount of attention to the missions and priests that came with the Conquistadors. These two things formed most of the information in the pamphlet. During their time researching Spanish history, the members started to love Spanish history beyond the purposes of the Old Spanish Trail. Harral Ayres even made a scrapbook about Spanish history. In one of the pages about the New Mexico flag, he wrote that San Antonio should get a flag that incorporates their Spanish past into it. He also included pieces of information about the conquistadors in this scrapbook.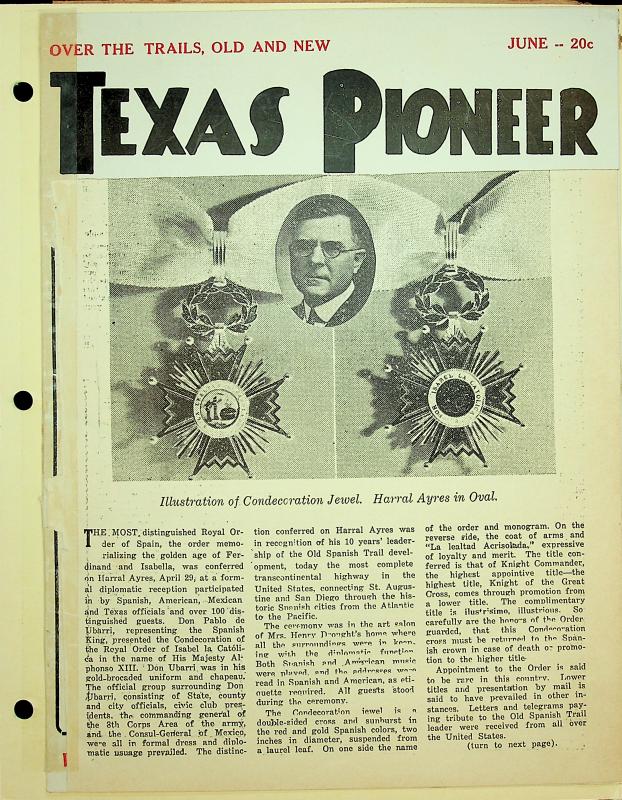 The work of the Old Spanish Trail and Harral Ayres received the attention of many people, including the King of Spain. In 1930 the King of Spain granted Harral Ayres the title of Knight Commander of the Royal Order of Isabel la Católica for the work he did on the Spanish Trail. It appears that Old Spanish Trail went above and beyond the job they set out to do by establishing a highway that not only connected two sides of a country but to establish a highway that helped a country connect with its history.